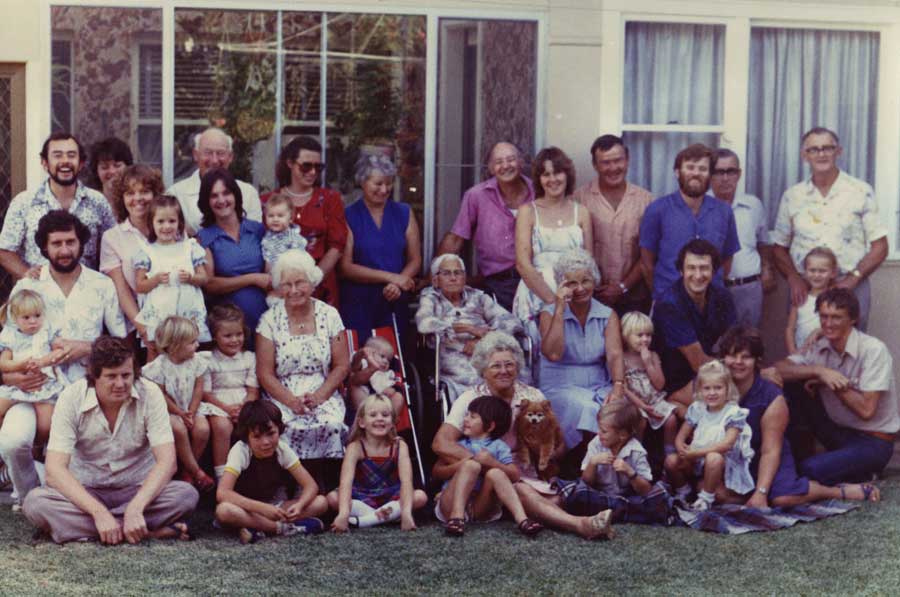 Photo was taken at 14 Wilberforce Road, Revesby in 1981, either Mother's Day or Grandma's birthday
Back row, left to right: Paul Raymond Harrison, Paula Marge (nee Edwards) Harrison, Margaret Glenyss (nee Curtis) Gillett, Rebecca Glenyss Gillett, Edward James Brownlee, Jannette Coral (nee Maher) Brownlee holding Matthew John Brownlee, Christine Lynette (nee Street) Dunnell, Enid Gladys (nee Brownlee) Harrison, Raymond Donald Harrison, Roslyn Maree (nee Gillett) Garbutt, Kenneth Edmund Dunnell, Rex Hilton Garbutt, Esbert Bradford Street, Robert Mowbray Gillett.
Centre row, left to right: Robert William Gillett holding Sarah Amy Gillett, Janine Amy Brownlee, Caroline Mary Dunnell, Thelma Christina (nee Brownlee) Gillett, Michelle Anne Gillett, Maria Bessie (nee Chadwick) Brownlee, Marie Elizabeth (nee Brownlee) Street, Naomi Thelma Gillett, Ian Edward Brownlee, Belinda Jenny Garbutt.
Front row, left to right: Allan Graham Gillett, Jason Sams, Katrina Maree Garbutt, Caroline Sarah (nee Harding) Brownlee holding Robert Edward Brownlee and 'Lassie' Brownlee, Timothy Edmund Dunnell, Rachael Emma Gillett, Vickie Helen (nee Sams) Gillett, Peter Edward Gillett.